Common Core Standards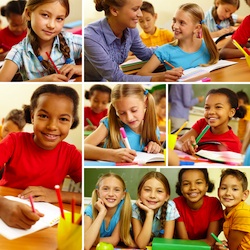 The Common Core State Standards Initiative is a state-led effort coordinated by the National Governors Association Center for Best Practices (NGA Center) and the Council of Chief State School Officers (CCSSO). The standards were developed in collaboration with teachers, school administrators and experts. This was done in order to provide a clear and consistent framework to prepare our children for college and the workforce.
These standards define the knowledge and skills students should have within their K-12 education so they will graduate high school able to succeed in entry-level, credit-bearing academic college courses and in workforce training programs.
The Common Core State Standards Initiative supports expectations for students to achieve levels of critical thinking, problem solving, collaboration, communication, creativity and innovation. These standards along with skills identified through the Partnership for 21st Century Skills align in a way that supports the Analysis, Synthesis and Evaluation tiers of Blooms Taxonomy. By integrating the Common Core Standards effectively in your educational resources you'll be establishing a commitment to preparing students for success in college, career and life. For additional examples of the integration of Common Core Standards and the Partnership for 21st Century Skills, Click Here.