Bloom's Taxonomy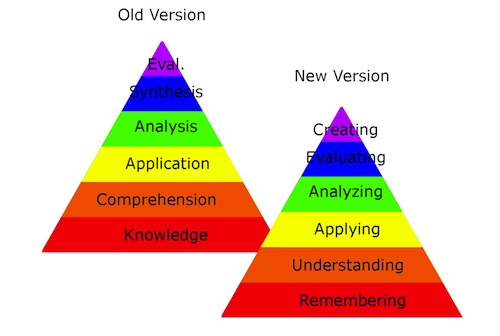 The initial 1956 publication of Bloom's Taxonomy of Learning Domains or Bloom's Taxonomy of Educational Objectives represents the work of chairperson Benjamin Bloom and a committee of educational psychologists who developed a multi-tiered scale identifying levels of expertise required to achieve measurable student outcomes.
During the 1990's a group of cognitive psychologists, lead by Lorin Anderson, updated the taxonomy reflecting relevance to 21st century learning.
Both versions of the Taxonomy are being used in various educational environments. This includes K-12, post secondary education centers and corporate training. Within the education industry it serves as a template for the evaluation of training, teaching, learning and development.
MindSpark Partners believe that in order to effectively develop, assess, convert and/or sell teaching resources, all levels of the Taxonomy should be represented. If you're an advanced educator and have the success of moving your students to the higher orders of thinking we hope you'll partner with us in sharing your success. And if you are an educator who desires access to higher level thinking resources you have come to the right spot—MindSpark Partners!