21st Century Skills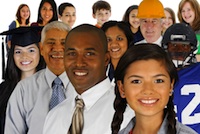 Many times educators are asked to focus on so many objectives and criteria that it feels impossible to do it all and do it all well. At MindSpark Partners we've considered the multiple forces that are pulling at an educator's time and talents. By focusing on higher level learning and workforce ready Critical Skills Essential for Success you'll be meeting components of the Common Core Standards and 21st Century Skills content.
Within the 21st Century Skills content you'll find skills that support higher level learning and align to our Critical Skills Essential for Success. Utilizing all the tools and resources MindSpark Partners has to offer you'll not only be preparing your students for the world of work you'll be meeting the needs of the 21st Century.
For more information on how the framework of the 21st Century can be supported in your classroom, Click Here.